What could we do, on a limited budget, with this tiny, city-centre space?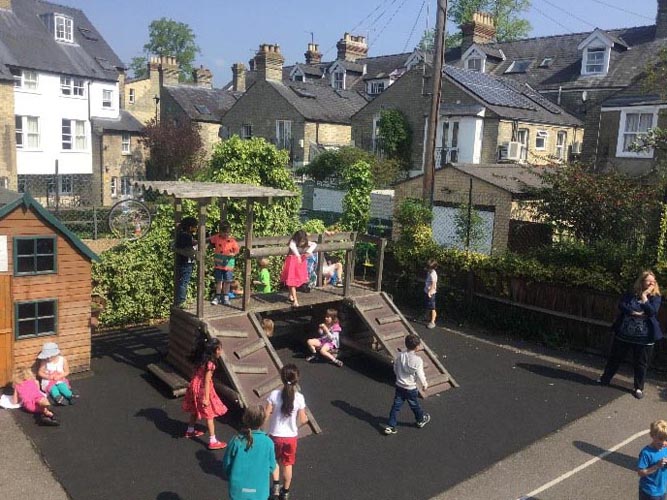 The tarmac was dangerous, the whole space was dominated by a large, decaying climbing frame and unusable playhouse. The area needed to work for EYFS free flow provision, as well as Key Stage one playtimes. EYFS also have limited indoor space, so it was essential that opportunities for learning be extended outdoors more successfully. Although Jesus Green is used for 'natural environment' outside learning, we felt we could give the playground a slightly 'natural' atmosphere through the use of astro-grass and wood equipment.
We had our 'wish-list' costed: the estimate was £46,000! Unfortunately, less than half this figure was available to spend.
Our focus was on the tasks we would be unable to do ourselves. The whole area required re-surfacing in an imaginative way, to make the 'learning zones' clear. It was also important to us to include a small climbing frame of some kind, to replace the old one. The design company were 'bargained' with, to re-purpose and up-cycle the existing playhouse (now an 'adventure shed) to save us the £4,000 they wanted to charge for a new one! Finally, we could just about afford the mud kitchen area, in the 'muddy zone', and water-butt, but with no mud kitchen! Cost – £21,000.
We are lucky to have a team of dedicated staff, with friends and parents, who could now make the space 'come alive' and be an exciting outdoor classroom to stimulate the children's learning, creating a free-flow environment between the indoor and outdoor classroom. Now, provision meets all areas of learning for both EYFS and KS1, with help from Jesus Green when we need minibeasts!
Ask and you shall get! One parent created an amazing mud kitchen and teachers 'up-cycled' an old trolley to hold utensils and natural materials. Our cleaner painted furniture, and a teacher's father helped – using old pallets, painted by the teachers and their children, to create a stage, investigation workstation, and water wall (cost = £12 rather than the £1500 quoted!).
Another 'friend' of the school created large loose part building materials, and donated tree stumps, planks and tyres to give plenty of scope for creative construction, developing the children's gross motor skills. These are a particular favourite wit h the Year one and two children, when they use the area for their playtime.
One teacher said: "It was really good fun making things from the pallets and planning how our space should develop. Having the shed moved meant we had to empty it – a great opportunity for a good clear out!"
We now have everything (bar a climbing wall and more black/whiteboards) from our original quote, at less than half the price!
A last word from one of our new reception children, after her first morning learning in the outdoor classroom:
"I am very happy because I have the best school ever!"
Sarah Hawker
Head Teacher
Park Street C of E Primary School