What a wonderful pre-Christmas week we have had at Park Street!  At the risk of over-doing the alliteration, there has been a great deal of singing, signing and sewing!
The choir and signing club successfully raised over £200 for the Chromebook appeal, by entertaining parents and passers-by outside the Round Church on Tuesday.  It was really heart-warming to see the delight of the passing shoppers!
Woodpecker and Eagle Class have been working with textiles this week, Woodpecker class have made some beautiful, felt Christmas decorations. They have quickly learned to thread needles, sew some embroidery stitches and to sew on buttons (very useful!).  Eagle class have created some amazing batik wall-hangings. Many of them managed to use a sewing machine for the first time.  Don't ask to see your child's, however, as I believe they are a surprise!
On Thursday we had our delicious Christmas lunch, prepared and served with great efficiency by our hard-working but always cheerful caterers, Roma and Danielle.  The year Six pupils really enjoyed eating 'Al Fresco'!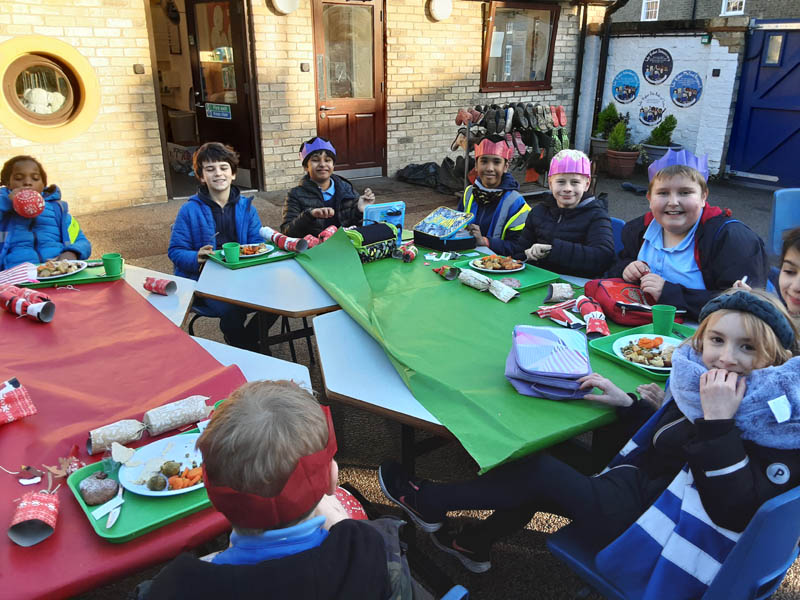 The Owl and Flamingo Class Christingle took place in the hall on Wednesday (see photo below), and the Woodpecker and Eagles' service at Great St Mary's today (Friday) – see video below.
Stars of the Week ending 11th December:
Owl Class: Isabella for good counting
Flamingo Class: Wilf for having beautiful manners
Woodpecker Class: Seren for fantastic writing
Eagle Class: Everett for improving focus and improved writing
Stars of the week ending 18th December:
Owl Class: Dylan for making some good choices
Flamingo Class: Leo for always being a kind and caring member of the class
Woodpecker Class: Arthur and Henry for brilliant sewing
Eagle Class: Felix for being so organised and completing his reading record every week
Challenge Cup winner: Isobel
Our warmest wishes for a Happy Christmas and New Year.
Sarah Hawker
Headteacher